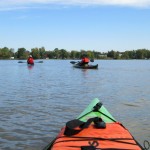 This is a one day course for new kayakers that creates a safe beginning for your kayaking adventures.
The Introduction to Kayaking Skills Course is for beginners who would like to learn more than the parts of their kayak and paddle strokes. This course is for those who want to learn the basics needed for day tripping in protected waters. Check the list below for the skills and knowledge covered.
Don't have a kayak? No problem the kayak rental is included with the clinic. If you want, bring your own kayak!
Taught by a Paddle Canada certified instructor.
The price for the Introduction to Kayaking Skills Course is $130.00 per person. Maximum 6 people per course.
This course will be held Saturday  August 6. Other dates may be added based on demand.
Paddle Canada – Introduction to Kayaking Skills Course 8 Hours
Aim
Introduction to Kayaking introduces the novice to paddling a kayak in calm sheltered water. Rescue techniques at this level incorporate the use of a paddling partner and it is essential for all Introduction to Kayaking certified paddlers to travel on the water with others who have been trained in the techniques of assisted rescues.
Prerequisites None.
Course length 8 hours minimum.
Class ratio 1 instructor: 6 participants.
Location tbd. 
Conditions Wind calm (< 8 knots) Sea state calm to rippled.
Assessment
Activities focus on individual safety and comfortable paddling along a calm shoreline. While there is a great deal to learn at this level, the activities should concentrate on personal progress and an awareness of the need for future learning. Paddlers should leave the course encouraged to continue their learning and aware of their individual limitations.
Overview – Rescue skills Paddling skills Knowledge
· Wet Exit
· Retrieving a swamped kayak
· Assisted Rescue
· Rafting
· Lifting and carrying a kayak.
· Forward and reverse paddling.
· Forward and reverse sweep strokes.
· Draw stroke
· Low brace
· Boat design
· Boat outfitting
· Clothing
· Safety Equipment
· Paddles
· Injury prevention
· Equipment care
· Kayaking resources